Karuna Germany is a non-profit organization working to empower marginalized, disadvantaged populations in India and Nepal. Together with their local project partners, they support projects in the areas of women's rights, education, livelihoods, health and climate change impacts.
At Karuna, it all started with a WebMo for the Maitri network. The organization now uses WebMos for five of its projects, all of which follow the logframe methodology. For the Maitri project, regional indicators from 10 Indian districts are aggregated for the global network program.
We spoke with Susanne Traud-Dubois, Chair of Karuna Germany, Deepak Mohapatra, Project Controller at Karuna Germany, and Omkar Ji, Monitoring and Evaluation (M&E) Coordinator at local Maitri partner Jan Sahas, about their experiences with WebMo.
Why did you choose WebMo for your organization?
Susanne Traud-Dubois: Before introducing WebMo, we used Excel spreadsheets for monitoring in a more or less professional way. Very few local partners linked the tables and analyzed the data – the system was difficult for them to use. Then, a few years ago, we got to know Robert Heine and energypedia consult through a webinar on results monitoring. This rekindled our interest in a software solution for monitoring and we quickly decided on WebMo.
After our application for funding was accepted, we were able to start with a WebMo for the Maitri network. Gradually, more WebMos were added for other projects. We invoice our funders separately for each WebMo. A global WebMo for the entire organization would be great - but then our smaller projects would have to be included as well and we don't have the capacity for that at the moment.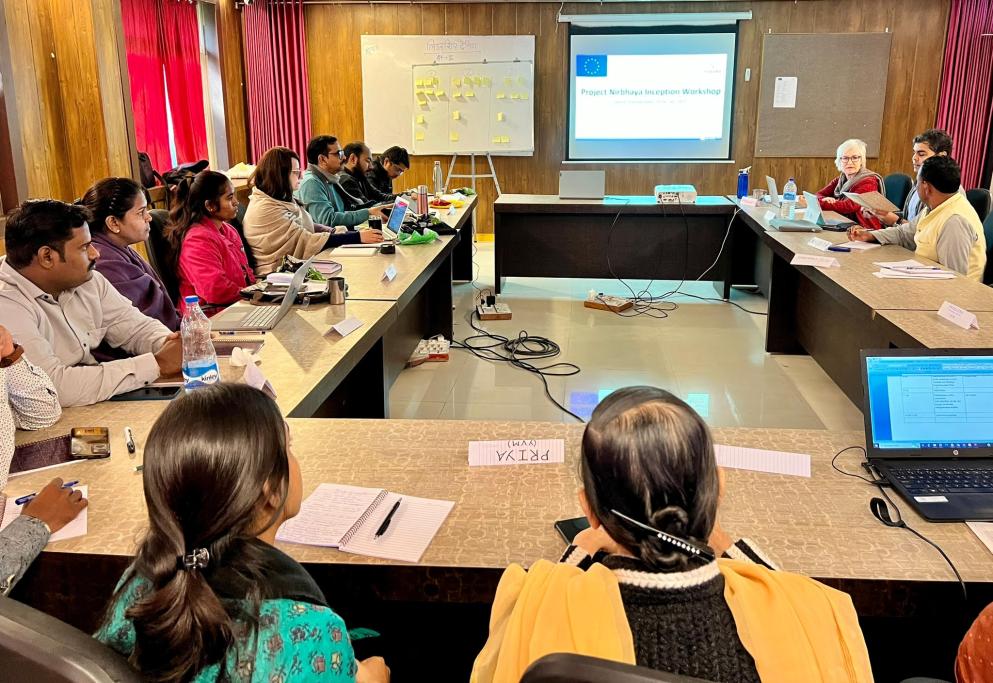 Kickoff meeting for the Nirbhaya project in India with local partners. Nirbhaya is one of five Karuna projects that use WebMo for monitoring.
What features do you value the most?
Deepak Mohapatra: I find the automatic progress bars and pie charts useful for seeing how a project is progressing toward its goals at a given point in time and taking appropriate action when needed. I also find it helpful that we can split the logframe across multiple partners or regions.
Omkar Ji: WebMo is user-friendly and the monitoring is directly connected to our measurable indicators. Of the different types of indicators, I find the baseline-target-current indicator the best, as it allows us to compare baseline to current status using data sets. WebMo also helps us verify our raw data.
How is the platform received by local partners?
Omkar Ji: Some partners need more hand holding support, while others are much more capable.
Susanne Traud-Dubois: How well WebMo is accepted by the local project partners depends very much on the level of IT affinity of the people in charge. Some partner organizations are led by activists who approach the work more from social, militant motives and do not have the academic view of development cooperation. For them, monitoring is sometimes not a priority. So it is important that we provide support at the project management level.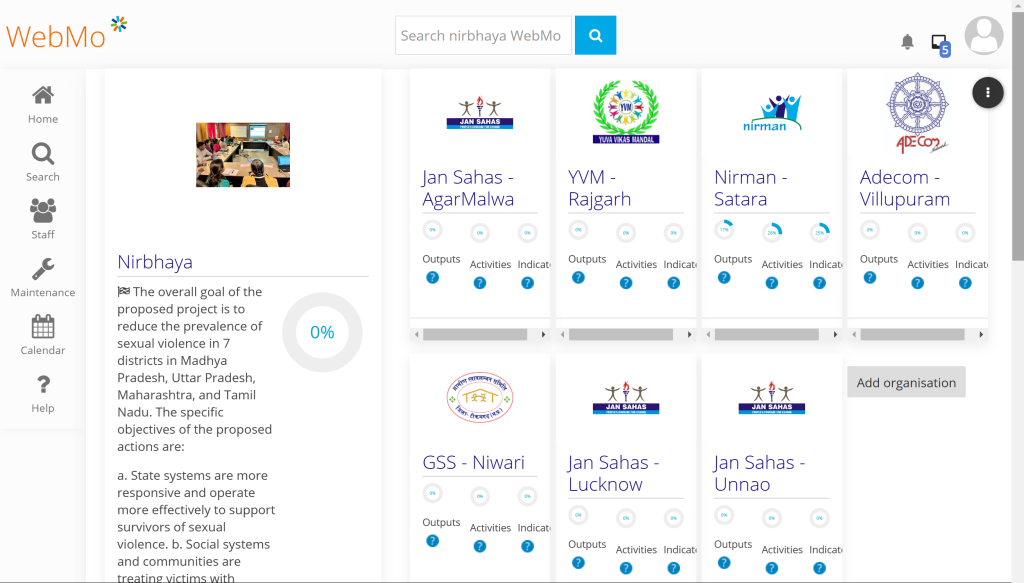 Screenshot from the Nirbhaya WebMo. The project is implemented by partner organizations in seven selected districts in India where there is a high incidence of violence against women.
To what extent has WebMo changed your monitoring and collaboration?
Susanne Traud-Dubois: Our monitoring has definitely improved. However, we don't have any conclusive experience yet. In the Maitri project, we are only at the end of the first term. In retrospect, some things in WebMo were not always clear, for example how to enter the indicators. Nothing has really changed in terms of internal collaboration, as WebMo is mainly maintained at the level of the partner organizations. They send us reports based on the data in WebMo and additional narrative elements. We use this at Karuna Germany to compile reports for our donors.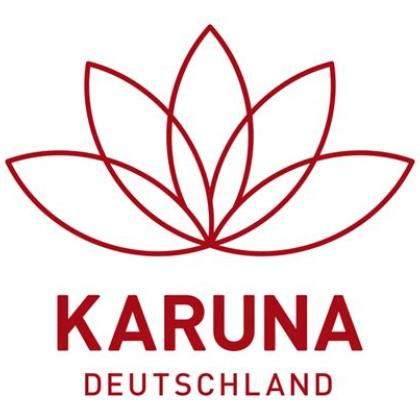 "If we have problems or questions, there is always someone from the energypedia consult team ready to help right away."
Susanne Traud-Dubois, 1st chair and executive director, Karuna Germany
Do you have any advice for interested users?
Susanne Traud-Dubois: To fill the tool with life and keep it alive, you need someone to take care of it – that should be part of someone's job description. If the responsibility is not clearly assigned, it may not be taken care of, and that would be a shame. For many of our local partners, it's a mandatory task, so it takes someone to regularly remind folks to enter the data. Fortunately, we have found someone for each project - for example, for Maitri that person is Omkar, and for the Nirbhaya project with its five partner organizations, Deepak has taken on the role.
We thank Susanne Traud-Dubois, Omkar Ji and Deepak Mohapatra for their open feedback and sharing from their experience with local project partners.
Author: Anna Matuschka