Energypedia consult has teamed up with ICT4D.at to offer a free online course on Monitoring with Excel. We've created this comprehensive online course to provide international development practitioners with the skills and knowledge necessary to use Excel as a real monitoring tool. Our course is self-paced and designed for those with basic Excel skills.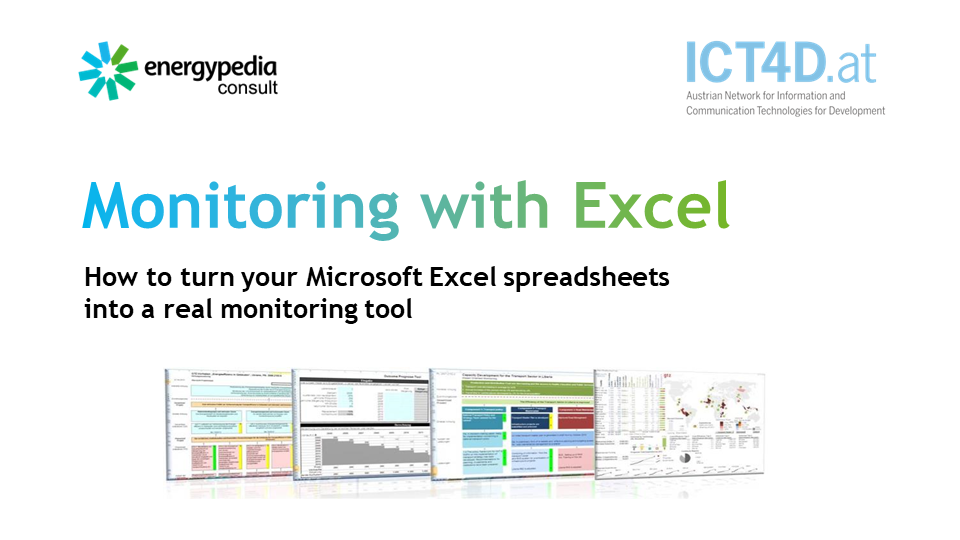 Participants will learn:
how to optimize data input and management

relevant functions for monitoring progress and results

how to illustrate indicator progress

how to create customized dashboards with visualizations of data sets for quick decision-making
What sets our course apart from others is the focus on the development cooperation context. We use examples from the field to demonstrate various functions, which helps to apply the formulas and principles to one's own projects. In addition to video lessons, participants are encouraged to apply the newly gained knowledge in an exercise file, for which separate solution file is provided as well. We have also put together a sample file to a real monitoring tool, as well as a collection of the most useful functions in English, German, French and Spanish.
With this cooperation, we are joining in on ICT4D.at's mission of empowering people to develop the skills they need to achieve their full potential through knowledge, tools, and networks. Sharing our knowledge on how to get the most out of Excel as an M&E practitioner is part of our greater vision to make development cooperation more transparent, efficient, and effective. By providing free access to the course, we hope to help non-profits in the development sector prove and improve their impact.
We invite all international development practitioners with an interest in monitoring to follow the link below and take advantage of this exciting opportunity to learn more about Monitoring with Excel. The 1:45-hour video tutorial covers four modules and can be paused anytime. Download links to the course files are provided in the video description. We will be reserving time for any questions our course participants might have in our regular, quarterly free webinar "Introduction to results monitoring with Excel".